Looking back in history, it's abundantly clear that the construction of railways and locomotives had a significant impact on the development of nations, their industries, and their economies. Railroads were crucial to industries like coal-mining and iron production, reducing the cost of goods with improved transportation routes. And rail is one of the most efficient ways to move bulk cargo over long distances. Whether it's heavy-duty goods or people, railways have revolutionized movement.
In 1964, Japan introduced the first high-speed rail system known as the Shinkansen or "bullet train," with trains that traveled 130 miles per hour. Today, the Shinkansen reaches speeds of 200 miles per hour, matching France's TGV (which stands for "Train à Grande Vitesse", meaning High Speed Train).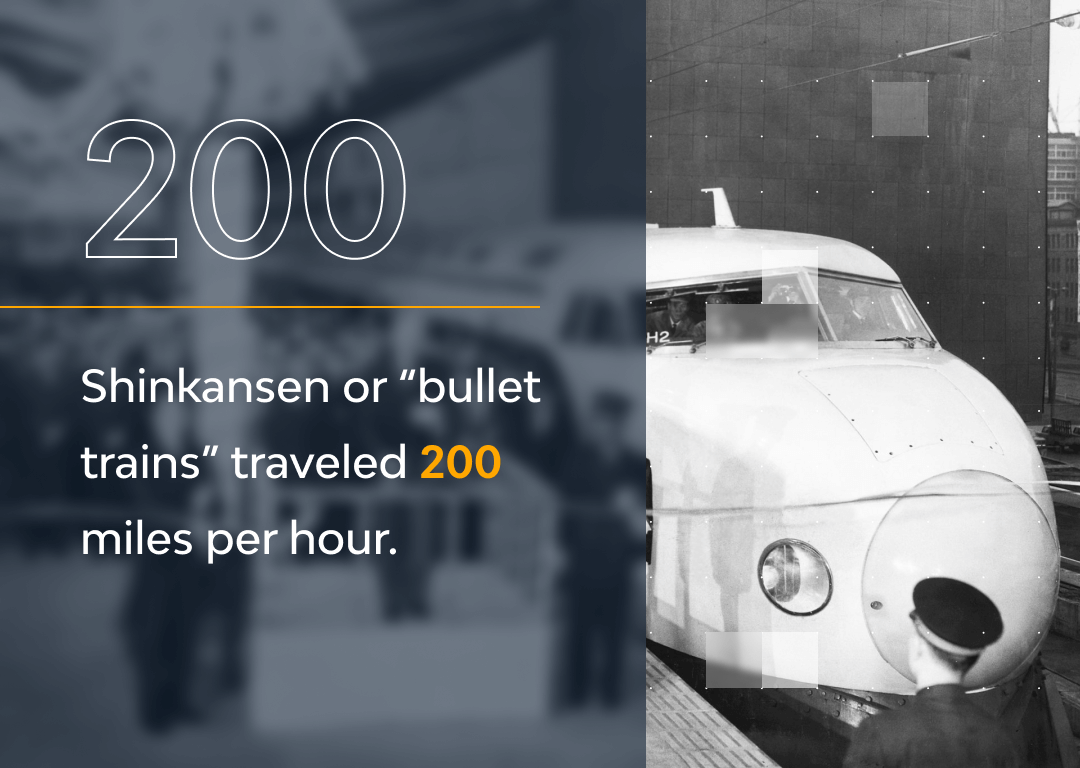 Today, cities across Asia and Europe rely on high-speed trains as the primary mode of public (and goods) transport, while the US lags behind. The fastest rail system in the US is the Amtrak Acela Express which runs along the Northeast Corridor (its trains travel at 165 miles per hour.) A national high-speed train system could cut current travel times significantly. It takes over 8 hours to travel from San Francisco to Los Angeles by road, a distance of 500 miles. A high-speed train could cut this trip down to three hours.
While it certainly has pros, introducing a US high-speed rail system is no easy feat. Let's unpack the benefits and challenges of a project at this scale, understanding how construction scheduling software comes to the rescue!
The Benefits Of Building High-Speed Rail In The US
1. It Creates Jobs
Every $1 billion in investment for high-speed rail construction would create 24,000 jobs. These vary from entry-level positions to highly skilled jobs. The Amtrak Acela project created more than 4,000 jobs across the 119 miles of construction.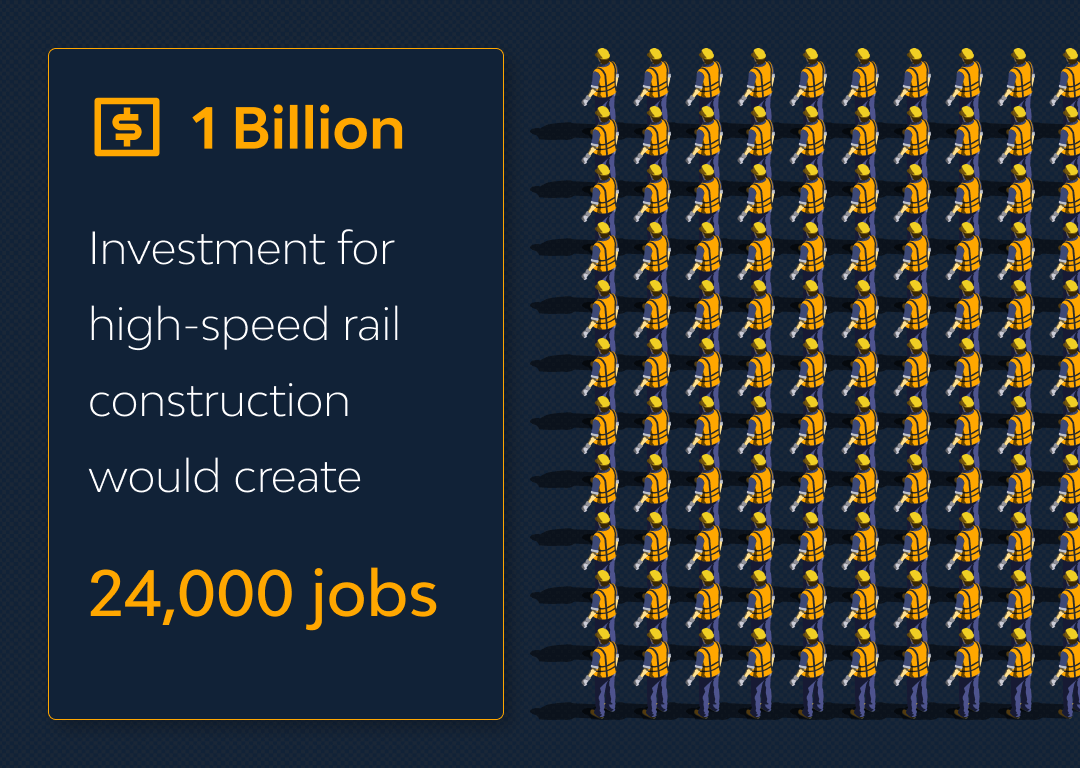 2. Increased Economic Activity
Upgrading passenger operations with new high-speed tracks spurs business productivity along the relevant corridors. A high-speed rail network expands the labor markets for employers and expands employment opportunities for the workforce.
High-speed rail creates focal points for future development by enhancing clusters of economic activity across various regions. The increased transfer points lead to inevitable feeder services, further expanding people's options in rural and urban settings. On top of that, high-speed rail increases travel access in a broader sense, whether for work or leisure, impacting micro-economies.
3. It Reduces Congestion
With the US population set to grow by 100 million people in the next 40 years, high-speed rail alleviates the inevitable demand on highways and airports.
The Texas high-speed rail from Dallas to Houston is set to break ground in 2026, along with the Las Vegas high-speed rail connecting to Southern California in 2023. Both projects aim to reduce congestion on the roads, providing alternative transport routes for millions of people. In Texas, the new route provides a fast, safe and low environmental impact alternative for the 13 million people who move between the two cities by car regularly.
4. It's Safer
Approximately 43,000 people are killed in car accidents in the US every year, with over a million people suffering from serious injuries. High-speed rail is one of the safest modes of transport, reducing unnecessary fatalities and the immense strain on medical services that road accidents create.
5. A Positive Effect On Energy
The US depends on oil to power 98% of its transportation channels. It's not sustainable long term, especially as the population demand increases. Air transportation is one of the most polluting industries, making it difficult for passengers to make sustainable choices when reaching particular destinations. A significant shift from air travel to train travel could help to cut energy usage and decrease pollution in a meaningful way.
Activating and reviving train routes for daytime and night trains not only increases travel accessibility but also reduces the excessive carbon emissions short-haul flights emit by more than 50%. Domestic flights account for 133g of CO2 emissions per passenger per trip while trains like the Eurostar from London to Paris contribute just 6g per passenger per trip.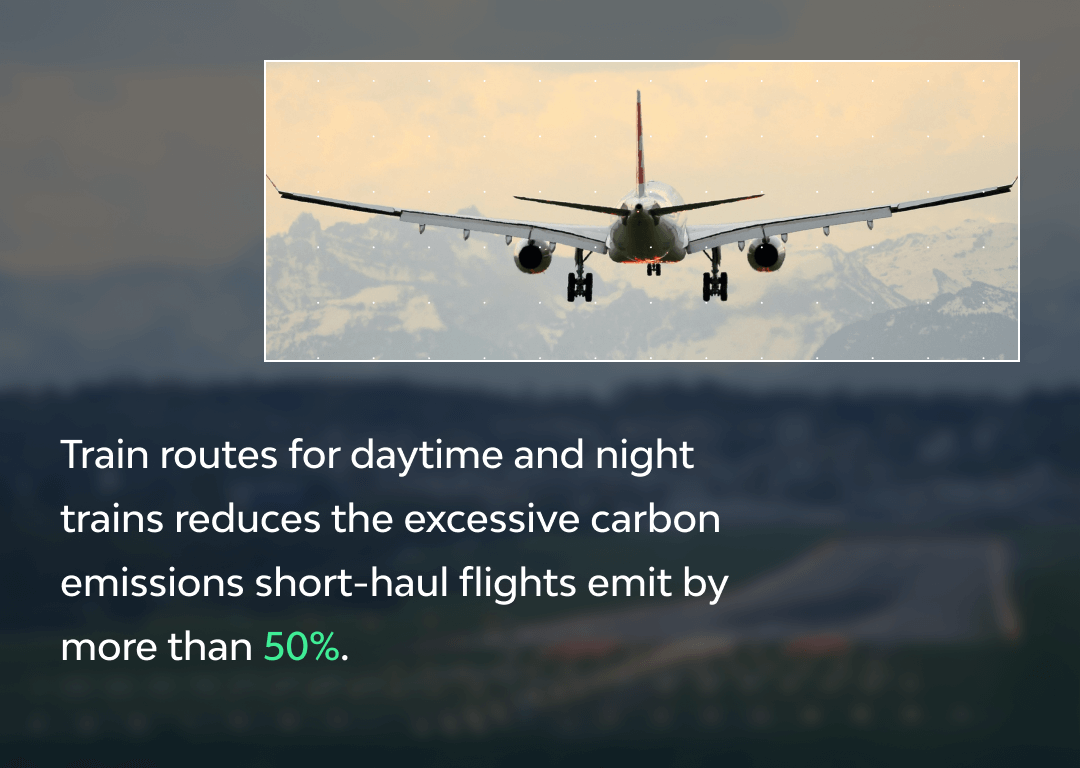 High-speed rail is one of the greenest forms of transportation. Better yet, it can be powered by renewable energy, reducing the reliance most motorized mobility has on oil.

6. It's An Alternative For Light Freight
High-speed rail offers an excellent alternative for light-freight shipping. It would easily replace inefficient networks like long-distance trucks and airplanes. While it reduces the carbon emissions from current shipping systems, it also lowers the overall cost, benefiting the end consumer. On top of that, it's more reliable than the current shipping systems.


The Challenges Of Building High-Speed Rail In The US

1. The Infrastructure Requirements
High-speed trains require a considerable amount of infrastructure to be built and maintained to a precise set of standards. The urban rail transit systems and California's Amtrak have more than $200 billion in maintenance backlogs. Many argue the US can't afford more infrastructure to maintain, let alone construct.
2. Dedicated Infrastructure Is Wasted
Motor vehicles and airplanes only require incremental expansions to their infrastructure, while high-speed trains require high-cost infrastructure to be in place in its entirety from the get-go.
3. Some Communities Miss Out
While high-speed trains can generate new economic development near the stations, they can also hinder growth in communities that aren't on the train line. If you're not on the tracks, you don't yield the benefits from the feeder services or the influx of customers.
4. Time
A high-speed train system takes decades to plan and build, meaning that the current transportation landscape will have evolved once more by the time construction is completed. Driverless cars will be prevalent, with electric airplanes catering to short-distance travelers.
How Can ALICE Technologies Help?
Tackling a high-speed rail system project requires extensive planning, from the cost of the construction project to construction scheduling and recovery plans. ALICE uses the power of AI to optimize the development of ideal construction schedules reducing many of the risks associated with mega project builds.
High-speed rail projects use public funding, so contractors are now required to use top-of-the-range optimization technologies for construction planning and execution. Align JV recently used ALICE on the HS2 project, the largest high-speed rail development in Europe. With ALICE, Align was able to explore scheduling options and make significantly faster decisions. The JV is now using ALICE to find ways to reduce its construction carbon emissions as well.
Next Article
Construction Project Planning: AI is the Answer
Read more