By Simon Campbell – Special Projects Editor | Content as published in San Francisco Business Times here.
When René Morkos was 22 he spent a year in Afghanistan, working
as an engineering project manager at the height of the so-called
war on terror. Witnessing death on a regular basis forced him
to consider his own mortality and place in the world. "The thing that I realized was if you're here for such a short period of time it really changes what you think is valuable," he says. "The ability to create a positive impact around me was, was really, really super important."

Morkos is hoping that impact will come through the company he founded in 2015. The premise behind Alice Technologies is simple, artificial intelligence-powered modeling software could help the construction industry save time and money. Through ALICE, clients can simulate different construction scenarios, variables and strategies and optimize their projects. "Our technology reduces the cost of construction, labor and equipment cost by about 13% and then durations by 17%," Morkos says.

In a multi-trillion dollar global industry such savings would be signif-
icant. The construction industry is in the early stages of a digital transformation, Morkos says, the potential for "the world's first construction optioneering platform" is huge. Morkos likes to relax by mountaineering. He climbed North America's tallest peak, the 20,000-foot Denali in Alaska, earlier this year.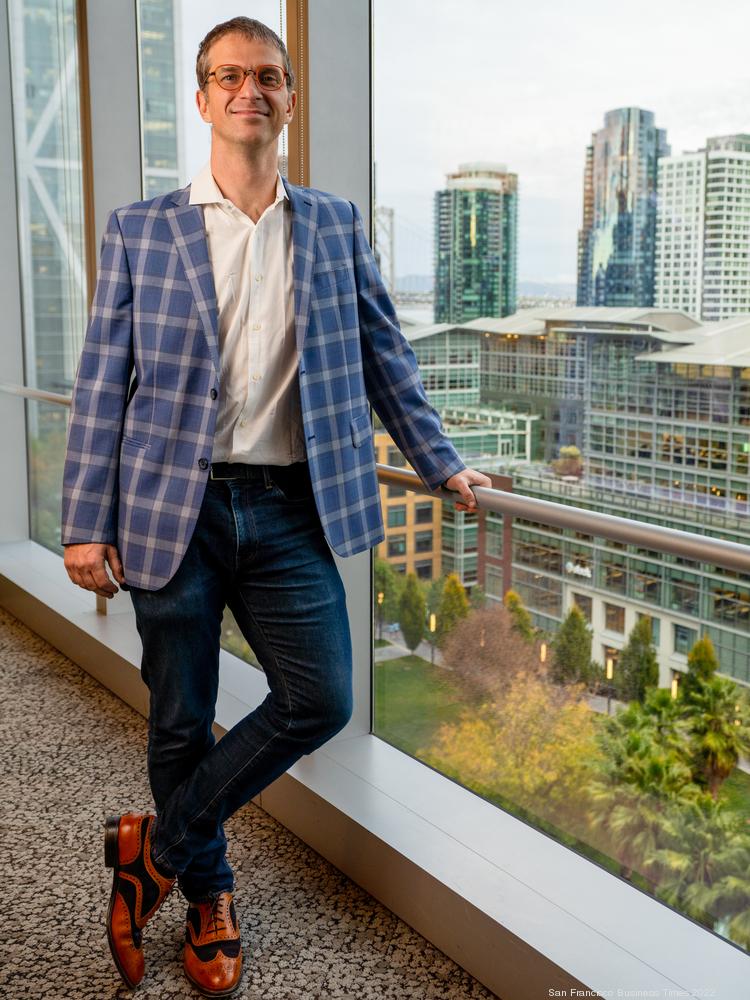 The Interview with Simon Campbel
What is a "construction engineering platform?"
There's a lot of ways to build a project. Do you build it with one crane or two cranes? Ten steelworkers or 15 steelworkers? Do you want fast-drying concrete or regular concrete? Do you want to do 10 hours a day or do you want to do six days a week at eight hours? What we enable you to do, for once, is to simulate those options. You don't have to rethink anything. You can say, add a crane, resimulate, see what happens. If there's a delay, run lots of permutations and tell me the best way out. It goes through all of these options and spits out the one that is best for you. That's what construction optioneering is about.
What ambitions do you have for the company?
I want ALICE Technologies to be a key player in coordinating the global construction supply chain. What we have now is a technology that works. It ticks a number of boxes. We have clients, but I want it to reach a point where every project in the world can use this and is being asked, why aren't you? That's the next piece. I want to reach the point where it's just plug and play. What's the motivation to do this? I was dealt these cards, you know, I grew up in a construction family, and I went up and I started my Ph.D. at Stanford. I was bestowed all these incredible privileges to enable me to move the needle forward on this specific idea. I feel like it's my job to do it. It's my responsibility to go and see this to the end.
How did having an engineer father influence your path?
I grew up watching him. He was an academic and a businessman. And I went into academics and business, even though I kind of revolted and was like, I want to do my own thing. But watching him build things was really beautiful. When you drive around town, he would say, Oh, you see that building? I built it. And I thought it was a really cool way to express yourself. So 20 years after my decision to not join the family business, I'm an academic engineer in construction running a company. So I'm a chip off the old block in a lot of ways.
What's it like to start a company?
Running a business, especially the kind of business that I decided to go for, inventing a subfield, or this whole field of computational construction, has had its price. I used to clock 20.5-hour days. That's kind of where I maxed out.
Was that as difficult as it sounds?
So it's a deeply fulfilling journey, but at the same time it is hard. I don't currently have a family or a deep personal romantic relationship, but it's something that you can get done if you put the time and effort into it. It consumed me. At 3 in the morning you're tossing and turning and it's just consuming you, like, I just want it to work.
Business, sport, whatever, do you think people get to the top through talent or something else?
There's a fallacy that's been propagated by society at large, like, oh, so Michael Phelps is talented, and so we're born with this talent. Having operated at the top levels in certain fields I think that if you hammer your head against the wall long enough you get there. I think that most people think it's a question of talent. I actually think it's a question of just hours and the motivation for those hours is the thing that is so god damn rare.
What do you learn about yourself climbing mountains?
You learn what's important. I think it's a painful sport. I don't know anybody that climbs up these large mountains and says, oh, this is a piece of cake, I'd love to do this tomorrow. You learn about your limits, you learn about who you really are.
Why do you keep doing it?
There's something about the sheer bloody mindedness of it. Like banging your head against a wall, over and over and over and over again. And then making little tiny bits of progress, but you just keep going at it. And that's very similar to entrepreneurship.
What's your perfect weekend?
There's no such thing as a perfect weekend. It all depends on the time of year. It depends who you are with. I tend to pick one thing. I trained for Denali for six plus months and so my weekend was really filled with 60 pounds of water in a backpack and lugging it uphill for six to eight hours, Saturdays and Sundays, or alternatively a three and a half hour-fasted run, no sugar. So that was eight months of the year. But then in the summer I go to Europe and I really love to wake up in Greece and go down to a little cafe, a taverna, and order some white wine and hang out on the beach in flip flops and just talk about life.
ABOUT RENÉ MORKOS
Age: 41
Hometown: Prague, Czech Republic
Residence: Excelsior district of San Francisco
Education: Ph.D. in artificial intelligence applications for construction as a Charles H. Leavell fellow at Stanford University; MsCE in construction management at University of Southern California; B.S. in civil and environmental engineering at American University of Beirut
First job with a paycheck: Not counting internships, a construction project manager in Afghanistan
First car: Red Jeep Cherokee
Current car: Red Mazda Miata. Her name is Scarlett.
Hobbies: Mountaineering and kitesurfing
Favorite Bay Area restaurant: Vega on Cortland Avenue
Hero growing up: Physicists Heisenberg, DeBroglie, Schrodinger and Einstein
Guilty pleasure: Indulging in an It's it!
ABOUT ALICE TECHNOLOGIES
Founded: 2015
HQ: Menlo Park
Employees: 64
Funding: $30M in Series B funding in 2022 led by Vanedge Capital; an $8M Series B in 2019
What it does: helps large contractors to reduce risk and plan, bid, and build more efficiently.
Clients: large contractors in infrastructure and commercial construction such as Bouygues, Kajima, and Skanska.
Biggest project: the U.K.'s $170B high-speed rail project, HS2